The other day, while trying to get my older son to bed, my 4-month old baby started crying for me. His dad tried everything to get him to quieten down, but he kept right on screaming.
Finally,for the sake of our sanity, I went to get him. As soon as I cooed his name and picked him from his dad, he immediately became quiet. The change was so sudden, my husband and I had a good laugh.
As I thought about my baby's behaviour later on, a passage from the Bible came into my mind. It's in John10:27 where it says,
"My sheep hear my voice, and I know them, and they follow me"
Just like my son refused to be comforted by someone who was not his primary caregiver, nothing satisfies our souls like Jesus. No amount of money, pleasure, or even power can fill the void that every person has, except the love of God in Christ Jesus. Like a mother loves her baby unconditionally and would sacrifice her time and even life for him/her, God's love for us is without measure, it cost Him the life of His beloved Son, Jesus.
For many Christians however, we have either forgotten this or have never experienced this love. All we know is religion based on half-truths about God. As a result, we don't know the Voice of the Shepherd of our souls. We think we do, but many times we don't. In today's world where deception is widespread, it is absolutely necessary for us to be able to discern the truth and know God's mind about us. For this to happen we have to improve our relationship with God. My baby son offers us clues.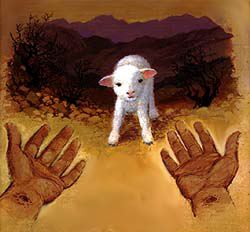 I've caught him many times just staring at me, intently. I absolutely adore it, but I often try to wonder what goes through his mind while he does that. I know for a fact that he is trying to know me, to remember my features, my voice, and even my smell.
This identification strategy is what makes him respond to me more than he does his dad: because he spends more time with me and knows me better.
In the same manner, for us to know God's voice, we will need to study Him. He has given us His
word the Bible, we have the Holy Spirit to guide us, we have the blood of Jesus which gives us access to communicate with God Almighty via prayers and we have millions of Believers who we can share with both physically or via the internet.
God is not such a huge mystery per se, He doesn't want us walking blindly. No, He is a loving father with a mother's heart who delights in us and who wants us to know Him. James4:8 tells us "
Draw near to God and He will draw near to you. Cleanse your hands, you sinners; and purify your hearts, you double-minded."
If we will seek God diligently and truthfully and desire to follow Him, we will surely find Him. We will know His Voice and find true and lasting peace and rest for our souls.
-------------------
Image1 courtesy:http://promisebook.files.wordpress.com/2012/09/sheep.jpg
Image2 courtesy:http://www.freecdtracts.com/images/lambnew.jpg